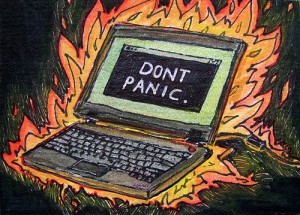 You know "content is king"…
… and to skyrocket your traffic, you must continuously produce new, interesting and – above all – USEFUL content for your readers.
But it's never that easy.
Posts drag on with no real focus… distractions eat away at your productivity… and suddenly your travel blog isn't growing half as fast as you'd like it to.
"Fast" is the key here. The truth is, you should be producing twice as much content as you are now – in the same amount of time and of equal or higher quality.
Let Me Show You How
It began during one of my guest post frenzies. I was struggling to write four posts a day and soon realized I needed to step it up.
So I experimented with a few writing techniques… mixed and matched them together until I found something that worked.
And guess what?
This Writing Technique Literally Doubled My Productivity
While it used to take me all day to publish four posts, now I was finishing them by lunchtime. Suddenly, I had four extra hours each day to focus on other things… like taking on other jobs, working on my blog and (of course) publishing more content.
The following system WORKS… so long as you actually DO it.
Here's how it works:
Step #1. Organise Your Writing Schedule
There are a million productivity tools out there… but many take too long to set up and ultimately waste more time than they save.
That's why I use this free desktop organizer. It takes a minute to set up and is brain-dead simple to use.
Here's a screenshot of what it looks like: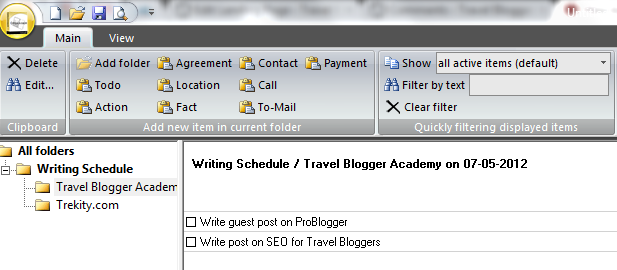 I create folders on the left hand side. You could create one folder for each website you're working on, then create sub folders such as "Writing," "Marketing" and Web Design."
Then under the "Writing" subfolder, write down the article headlines you're going to write for the day. This accomplishes two things:
It gets your ideas out of your head. This leads to increased clarity and focus, two things which greatly improve your writing speed.
It makes you accountable. Seeing your "To Dos" listed there – with a due date of TODAY – helps keep you on track. You're less likely to get distracted by other tasks.
Step #2. Use the (10 + 2) *5 technique
I first read about the (10 + 2) *5 technique on 43 Folders.
In a nutshell you:
Write for ten minutes straight (no interruptions)
Take a break for two.
Repeat five times.
This results in five intense focus sessions of writing in each hour. And the two minutes of rest lets you purposefully focus on something else (though I usually just stare at the wall).
Wanna check Facebook? Stretch? Harass your cat? Go for it… but for only two minutes. Then get back to writing.
And during these focus periods, don't worry about editing. Just get your thoughts on paper. Then move on to…
Step #3. Edit
After four or five ten minute sessions you should have a reasonably complete 600 – 800 word post. But it's still flabby… so it's time to "trim the fat."
In other words: edit.
Here are 15 words you should cut:
That
Quite
Perhaps
The
Just
Really
Basically
Slightly
Somewhat
Arguably
Very
Extremely
Whatsoever
Well
Also
Just by focusing on these 15 words, your writing will be leaner.
What You Need to Do Next
Create a list of writing assignments. Then use the (10 + 2) *5 technique to write the post in under an hour. Once you've written the post, remove as many of those 15 words as possible.
Leave a comment below with your own "writing hacks." How do you write better/faster? What struggles have you had?
Share this post. Know other writers who could benefit? Let 'em know about it!