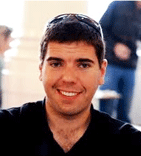 "If you're making money - and if you're a business, that's the idea - you need to figure out how much revenue you need to be happy." -Andy Hayes
Sound advice.
Andy Hayes runs the popular blog Sharing Travel Experiences, which focuses on the Value Luxury niche. Pretty smart, huh?
Now it's your turn to hear what Andy's got to say about branding, business and monetization.
In this interview you'll learn:
How to work with advertisers and sponsors
The secrets behind working with PR agencies
Three other markets travel bloggers should be in (but aren't)
Why travel agents may be the missing piece to monetization
A few other juicy tidbits on the business side of blogging
Ready? Then…
Watch the Video Now
Resources & Notes