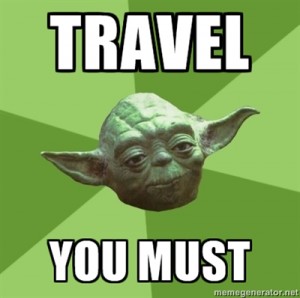 I'm not a stalker.
Really.
Sure, I follow people without their knowing it (on Twitter, anyways)…
But you know what?
I'm tired of it. Tired of waiting… and watching… and wishing I was one of those successful travel bloggers.
So I did something about it. I stopped stalking - and started talking.
I asked ten popular travel bloggers to spill their secrets on how they transformed their love for travel into a popular blog.
Best part? They did.

Actually, that's not the best part. The best part is…
Everything was captured on tape
Each blogger (plus a few powerful travel companies) agreed to record these discussions, and let them be distributed freely to Academy members.
That's you, buckaroo.
So without further ado I'd like to introduce…
The Magnificent Ten
Mike Richard
A web developer by trade, Mike launched Vagabondish in 2006 and receives between 200 - 300K pageviews per month. Mike is smart, snarky and - with over 120,000 Twitter followers - a social media ninja.
Geraldine DeRuiter
There may be better writers out there, but I'd be hard-pressed to find one. Geraldine went from full-time copywriter to creating Everywhereist, which was listed as one of Time's Top 25 blogs of the year. Yeah, she's that good.
David Lee
David saw it all coming. That's why he purchased the domain GoBackpacking.com in (gasp!) the nineties. Talk about vision. And now David's grown Go Backpacking to over 200,000 monthly pageviews and even hired two writers to help out.
Andy Hayes
Andy and I got along right off the bat. Why? Because we both treat our blogs as businesses, not hobbies. Andy monetized his blog in a few interesting ways (partnerships with hotel bookings & travel agents) and he's not afraid to think outside the box.
Lauren Monitz
Lauren gets marketing more than most. She's a realist, unafraid to tell things like they really are. Wanna know how marketing really works? Listen to Lauren.
Kirsty Brown
Kirsty runs the content department for My Destination, so she knows the importance of good writing for building a travel business.
Caz Makepeace
Want to learn about getting sponsored for travel? How about developing deeper media relationships? If so, then Caz and her husband Craig are the people to speak with. Plus - like many Australians - they're exceptionally cool people.
Matt Kepnes
Matt launched his travel blog in 2008. Over 1,000 posts later he's still traveling the world (albeit a bit slower), having adventures and blogging about it all.
Barbara Weibel
Barbara writes the wildly popular Hole in the Donut blog, which covers her personal adventures with a focus on cultural travel.
Bret Love
This up and comer is someone to keep your eye on.  Bret and his partner Mary have quadrupled GreenGlobalTravel's traffic in the past six months. Listen and learn, my friends.
Alright. This "dream team" dropped serious knowledge on me.
Now it's your turn to discover…
31 Brilliant Blogging Lessons From The World's Most Popular Travel Bloggers
#1. Pay for a professional design. By far the most common piece of advice. A professional design is just that: professional. It shows your serious about your blog.
#2. Set a writing schedule (and keep it). If you want to write three posts a week, set a schedule and stick with it. Doing so will train you to write better and faster.
#3. Feature a prominent opt-in. Matt Kepnes cites this as something he wish he did right away. Ask for your readers email; it will help you stay in touch and continue to provide value. For an example, visit the homepage 😉
#4. Build relationships. Lots of them. Relationships are what make blogs go from small to GIGANTIC. Begin building relationships where you can help each other out by sharing content, interviews, joint ventures… whatever. Just get started!
#5. Go to travel meetups. Both TBEX and Travel Massive came up as top ways to network. If you're in the same hemisphere, you better get on these.
#6. Write killer headlines. OK, this is my $0.02. But guess what? If you want more reads, more pageviews, more comments - you better start writing mouthwatering headlines.
#7. Do not use Google Adsense. It looks bad, pays little and - if successful - helps people leave your site.
#8. Don't give up. It takes time to get traction. But once you build an audience, it gets much, much easier.
#9. Think long and hard about why you're different. Creating your Unique Selling Proposition helps you stand apart from the thousands of other travel blogs out there.
#10. Pick an audience. And stick with them. If you blog for backpackers, skip luxury posts. If you blog for language lovers, stick to topics your audience will enjoy. In other words: it may be your blog, but it's their content.
#11. Always overdeliver. Caz from YTravelBlog drove this point home: whenever you ask your readers for anything, give back more in return. Not only does this build trust, it makes you look like a pro (which you are, right?)
#12. Avoid "me too" posts like the plague. You know when you Google something, and every result looks the same? Don't be that guy. Zig where others zag and claim more traffic. And speaking of which…
#13. Learn search engine optimization. Every blogger I spoke with said Google sent them more traffic than anything else. Don't underestimate what good SEO can do for you. Need to get started? Read this.
#14. Ask. Vagabondish editor Mike Richard summed it up in this interview: "Get in the habit of asking…. guest posts… links… whatever. Just ask."
#15. Pick a short, catchy domain name. The shorter the better, but don't be afraid to go long if it's relevant (e.g. Travel Blogger Academy).
#16. Don't expect to make money your first six months. Your first six months should be about creating killer content, building relationships and growing your traffic. Once you have an audience, then you can find ways to get paid.
#17. Use an autoresponder. These help you stay in touch with your audience and provide extra value. Matt Kepnes sends out a weekly newsletter with travel deals and personal travel updates. Does this drive traffic? You betcha.
#18. Treat your blog like a business. Because that what is. Both David Lee from Go Backpacking and Andy Hayes from Sharing Travel Experiences really drove this point home. You may start your travel blog for fun, but you've got to treat it like work to make it, um, work.
#19. Let your content rest. Geraldine pointed out she writes posts in advance, lets it sit overnight and edits accordingly.
#20. Don't give up.  Even during your darkest hour. Just. keep. going.
#21. Embrace the "haters." As a former copywriter, I've had people say terrible things about me. It happens. But you know what? People only "hate" on those who are doing something. In other words, you know you've reached new heights when others try to drag you down.
#22. Trim the fat. Most first drafts are flabby. Slice through them until lean, powerful writing remains.
#23. Build an audience, then monetize accordingly. This combines points 4, 10 and 16. Once you have an audience, figure out a way to provide value to them through monetization (i.e. sell them something awesome).
#24. Be accessible. Reply to emails. Honor your commitments.
#25. Design for mobile. Desktop computers will be irrelevant soon. Make sure mobile users can enjoy your content, too - they'll soon be running the show.
#26. Avoid spammy tactics. Ah yes, the Google Penguin update. The lesson (which seems to be same lesson in EVERY Google update) is to publish great content and get links from the biggest, best websites on the planet.
#27. Be active on other people's blogs. The Vacation Gals may be the nicest, most supportive blog on the planet… which explains why they're so popular. Watch and learn, my friends.
#28. Don't take "no" for an answer. This comes from my wife Darcie, who redefines "pleasantly persistant." Seriously. When doing guest post outreach she would almost always figure out a win/win…. even if it took ten emails of back and forth.
#29. Don't be a numbers junkie. Analytics, Klout Score, Twitter followers… they can all break your spirit. Remember, guys like Mike Richard started at zero, too. Just put your head down and keep working.
#30. Be brutally honest. Matt Kepnes wrote about how he'd never visit Vietnam again. Would you read that in Lonely Planet? Nope… and that's why it worked.
#31. Don't quit your day job. David Lee worked as a Customer Service Manager for a health insurance company while he began building Go Backpacking. When I last talked to him, he was receiving offers to drive Lamborghinis on a press trip. You better believe a whole lotta work connected those two dots.
Bonus: 3 Shocking Wake-Up Calls For New Travel Bloggers
My stalking was incomplete…
… turns out, I missed several top bloggers, for a variety of reasons.
But that doesn't mean their voice shouldn't be heard.
So here are three wake-up calls for aspiring travel bloggers:
To All New Travel Bloggers: "I read the words and sat and cried. I felt like my dream had just died in front of me." Sit quietly and read this post. The happy ending might be you in a few years… if you work hard enough.
So You Wanna Be A Pro Travel Blogger: Dave and Deb are among the smartest, most hard-working travel bloggers out there… and in this article they pull no punches. The pictures alone are enough to make me cry "uncle." But as they say "the hard work is worth it."
An Open Letter To Aspiring Travel Bloggers: I couldn't write this post without including Gary Arndt from Everything-Everywhere (mind the dash, people!). And while I disagree with his point about success getting harder, the whole post serves as a swift kick in the… um… reality of travel blogging.
Interesting Advice from Up and Coming Bloggers
Newbie Mistakes Travel Bloggers Make: Molly recounts her three biggest mistakes starting out, and provides actionable info on how to fix them.
How We Quadrupled Our Traffic In Six Months: Bret outlines how he and Mary continue to grow Green Global Travel. And since they just hired a team of interns, they're only gonna grow faster…
Alright travelers, what was your favorite advice? Got anything to add? Drop in the comments below (and don't forget to share this post!).