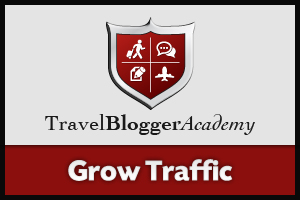 Wanna learn how to drive *more traffic* to your travel blog using free (or low-cost) ways?
How to build relationships with top travel bloggers, without looking like a sleazeball?
Then you've come to the right place.
Many bloggers struggle just to get their writing out there, and once they do… they figure traffic will come knocking on their door.
But we both know that's not the case, right?
After all, you can be the greatest writer in the world, but without traffic, you'll never get the comments, social shares and status that comes from having a wildly popular travel blog.
Traffic helps pay the bills.
So read the articles under the "Traffic" menu to learn how to growing your travel blog and how my wife Darcie and I launched Trekity.com and received over 8,000 pageviews its first week!
Was it luck? A "viral" post?
Hell no! We worked our asses off to coordinate a killer launch sequence.
And if you want to learn more in-depth methods for growing your travel blog, grab the free 24 part series.
Don't worry about spam: I hate it more than anyone you'll ever meet (seriously, my inbox is flooded with it at the moment) and promise to never, ever share your email with anyone. Pinky-swear.