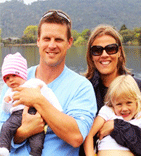 Caroline Makepeace (better known as Caz), serves up the real story about owning successful travel websites…
… all while managing the family front with her husband Craig and two beautiful daughters.
In this interview you'll learn:
How Caz and Craig scored a free SUV for six months
Why SEO should be at the top of your "things to do" list
The trick to getting sponsorship deals
All this and much, much more.
So dig in!
Watch the Interview Now
Resources & Notes