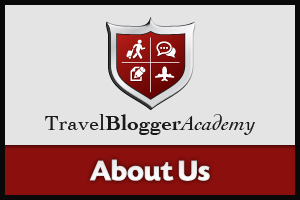 If you've arrived here, it's for one reason…
… you're ready.
Ready to turn your passion for travel into a full-fledged business, which pays your bills and lets you explore the world on your own terms.
In other words: you're ready to do what you love. For life.
Sure, sure, travel blogging sounds like fun, and it is. But it's not all fame, fortune and free flights around the world…
… because the truth is, trying to build a successful travel blog – one which actually gets attention and makes money – is like shouting into a tropical storm.
No matter how loud you scream, no matter much content you churn out or how many Twitter followers you have … if you don't know how to rise above the storm and get your message heard, your travel blog remains lost at sea.
But you're not alone.
Travel Blogger Academy is here to help. The site is what the name implies: a collection of hard-hitting tips to help you write better and build a wildly successful travel blog.
You'll learn over a hundred ways to increase traffic – plus how to monetize your site – without any sleaze or spam.
There's also a collection of WordPress tutorials and articles to help improve your writing.
And if you're new here, sign up for our free 24-part travel blogging course. It includes exclusive content and highlights the best content published here (and elsewhere).
Who's Behind Travel Blogger Academy?
Who's behind the curtain?  Well… it's us.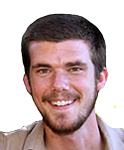 Hi, I'm Adam Costa and my wife's Darcie Connell (more on her in a sec).
Who we are and why you should listen to us requires some back story.
So get comfy.  It's a helluva ride.
It begins with an addiction…
Not cocaine, crank or crystal meth, mind you. An addiction to travel. My addiction started with a trip to Europe when I was nineteen. Since then, it's only gotten worse.
I studied in Australia and New Zealand for a semester. Backpacked Asia. Got deported from Vietnam and crashed on a friend's couch for two weeks in London.
After university, I worked for a summer in Yosemite National Park.
Fast forward a few years: I got a job doing Business Development for a travel agency. It grew old, so I hit the road as a North American tour guide with TrekAmerica, and crossed the U.S. four times in only three months.  Many fond memories come from then: food in New Orleans, drinking in Key West and wandering Washington D.C.'s memorials to past heroes.
But the best memory was in New York.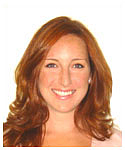 I proposed to my lady Darcie Connell atop the Rockefeller Building. She accepted.
Fifteen months and 3,000 miles later we were married. Two months later we quit our jobs and spent a year backpacking Asia (2009).
Then we… 

damn

!
I totally forgot something…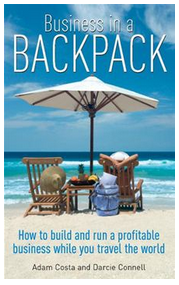 During our engagement we began building websites. Both Darcie and I have marketing backgrounds, and really enjoy marketing online.
So much so, we wrote a book about it: Business In A Backpack: How to Build and Run a Profitable Business While You Travel the World.
We taught marketing classes at local colleges including Internet Marketing for Beginners, Internet Marketing Advanced, AdWords, and Search Engine Optimization.
With my marketing chops, I worked at Google as a Market Analyst. Let me tell you: that is a crazy place to work. Free food, bicycles, and overachievers everywhere.
But the road began calling again.
So I began offering copywriting services. Had a few big hits, including one which generated over $330,000 in sales in less than a year.
I've written copy for an insane number of markets: real estate, weight loss, breast enhancement… you name, I've shucked it.
But you know what?
It got old.
So Darcie and I launched Trekity.com (2012) - a website for women who love travel. Unlike many travel bloggers – who learned marketing in order to blog – we both come from a heavy background in online marketing.
Which brings us back to my addiction. Eleven years after it started, travel has given me a gorgeous wife, several successful businesses and even a few book deals.
Not bad.
Anyways, I hope you've enjoyed reading this…
… and if you'd like to learn more about building successful websites, I urge you to sign up for our free 24-part marketing course for travel bloggers. You'll learn a lot, I promise.
To your successful travel blog,
Adam Costa and Darcie Connell
Chief Editors, Travel Blogger Academy
P.S. You really should sign up for the free course, which covers installing WordPress, professional travel writing advice and ideas to explode your blog's traffic and revenue. Fill out the form at the top of this page and instantly receive your first lesson (it's awesome).