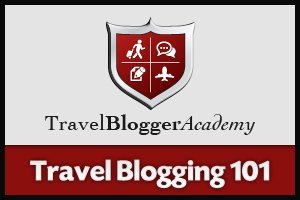 This one's gonna be good…
In this critique we talk a lot about branding: how do it, what to do and why you should do it.
Simple, right?
Well… it pays to have a fresh set of eyes look at your blog and offer their thoughts (I've learned this firsthand and highly recommend it!).
It's a relatively short critique but the lessons are just as powerful.
Watch on…
I want to thank Cristina from TheTravolution.com for letting me post this and hope you got a lot out of it.
And guess what? 
That's the end of the 24 part course!
Whew! It's been a long journey and we've learned a lot (at least I have - your feedback has been priceless!).
So what's next?
Well, I'll continue to provide exclusive content for you and other TBA subscribers… and I'll keep you posed when something truly excellent hits the blog itself.
Now I'd like to ask you a quick favor:
Could you shoot me an email at adam (AT) travelbloggeracdemy.com and let me know what you thought of the course? Good and bad - it will help me improve the course for future readers!
And if you do say something nice, is it OK if I use it as a testimonial on the site? I'd really appreciate it!
To your successful travel blog,
Adam Costa
Editor in Chief
TravelBloggerAcademy.com