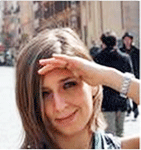 Creating killer content doesn't have to be hard.
In this action-packed interview, Geraldine DeRuiter  from Everywhereist reveals how she continuously churns out fresh, interesting takes on everyday situations like cupcakes, restaurants and mean women in Lego stores.
You'll learn:
how Everywhereist went from 200 daily visitors to 10,000 in a single day…
three crucial things travel bloggers need to do now (but rarely do)…
why "haters" are actually a good thing…
how "the Mom factor" helps you know when/how to promote your blog…
an interesting take on monetization (one we don't talk about here!)…
Plus a whole crate-load of obscenities and observations.
Watch the Video Now
Resources & Notes