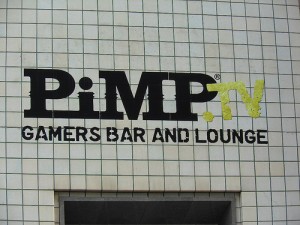 I'll be perfectly honest…
… Gmail makes me want to slam my head against a concrete wall.
Or chew sharded glass. Or write for Lonely Planet.
Anything but deal with what must be the least intuitive email service ever.
But - as much as it pains me to admit it - once you get the hang of it, Gmail is incredibly useful and allows you to get more done in less time.
Especially when it comes to outreach.
For the uninitiated, outreach is when you contact other website owners. The most common form of outreach is requesting a guest post.
Other reasons for outreach may include:
Letting them know about your new blog/product/service
Alerting them to broken links on their site
Requesting an interview
Offering your services
Telling them they're awesome
Done correctly, outreach helps you network, score guest posts and grow your travel blog in record time.
The Problem With Outreach
It takes too bloody long to do.
Most bloggers will put together a list of popular travel blogs, find their contact info and email them a short pitch.
And if you do this just ten times… you'll see how painful the process can be.
You can easily waste an hour or two sending these emails off. And you might get one yes… which means you'll need to contact a lot of bloggers to get your name out there.
But fortunately…
Gmail Speeds Up Outreach. A Lot.
Below are three tools I use when conducting outreach. They're all free, so you've got no excuse to ignore them 😉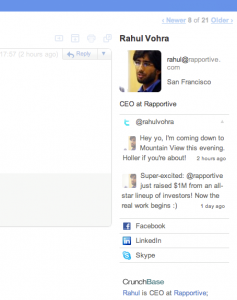 OK, you found an email address.
But what about their social networks? Where do they hang out? And what are they talking about right now?
Rapportive answers all those questions right in your inbox.
At a glance, you can see their recent Tweets, location (kinda hard with travel bloggers, though… we tend to move around a lot), occupation and other social profiles.
You can even connect with them on each network from within Gmail. So - in just three clicks - you can follow them on Twitter, list them as a friend on Facebook and connect on LinkedIn.
Oh, but it gets much, much better.
When you send your outreach email (you can see guest post examples here) you can include something relevant to what they've just mentioned on Twitter.
For example, if a blogger tweets they're headed to Ecuador, you could mention that in the first line of your email.
Something like…
"Hey Adam, I'm super excited you're heading to Ecuador! Don't miss out on Quito, it's an amazing city. And speaking of South America, I'd like to write a guest post on Trekity.com about Chile…"
That's much better than "Dear Sir/Madam, I'm interested in posting content on your blog…"
#2. Canned Responses
While you should personalize every email, a lot of it will be boilerplate.
Therefore, create a Canned Response to save time copying and pasting. A Canned Response lets you save an email template and insert it with one mouseclick.
For example, once you've created a template, you can add it by clicking "Canned Responses":

Then whenever you email someone, click "Canned Responses" again, select which response you want to use and Gmail automatically inserts it into your email…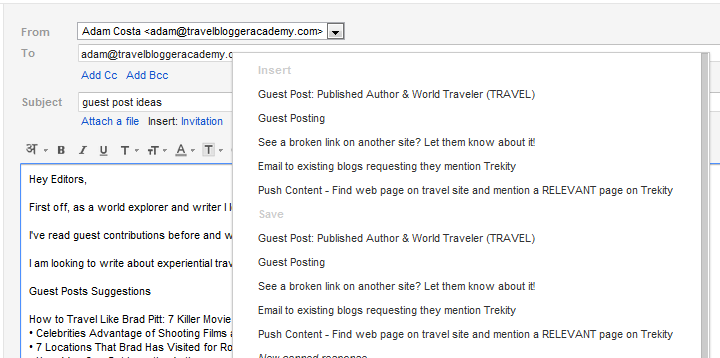 This is MUCH faster than copy/pasting it into emails. Â Just remember to customize your emails, especially the first few lines!
To install "Canned Responses":
Click the gear icon on the top right of your screen in Gmail.
Select "Settings"
Click the "Labs" button in the navbar
Search for "Canned Responses"
Click "Enable"
Click "Save Changes"
#3. Undo Send
You know the feeling…
… you just hit "send" and realize you made a MAJOR mistake.
If it's your friend, it's not big deal. But if you're contacting a blogger for the first time it's gotta be perfect.
Fortunately, Gmail has an "Undo Send" which gives you ten seconds to undo your email.
Like so:
[/caption]
This has saved me from looking stupid more times than I care to admit.
Here's how to install it:
Click the gear icon on the top right of your screen in Gmail.
Select "Settings"
Click the "Tabs" button in the navbar
Search for "Undo Send"
Click "Enable"
Click "Save Changes"
These three tools make outreach much easier.
Additional Tools to Consider
I don't use these personally, but many professional link builders swear by them…
Boomerang: Reminds you to follow up with prospects who haven't replied. You can also schedule emails to go out later. Free and paid versions available.
Multiple Inboxes: Lets you separate emails from your Gmail page. Organize inboxes by industry, email address and much, much more.
What productivity hacks do you have? Let us know in the comments below! And of course, don't forget to share this!