Nothing sexy here…
No flashy "Web 2.0" gimmicks or other such strangeness.
Instead, we're going to focus on the oh-so-unsexy (but EXTREMELY effective) newsletter.
Yes, email.
Now you might be wondering… Why a travel newsletter? Why not Twitter? Or  Facebook?
Listen closely.
Because in this post you will learn:
How to get started (including my favorite service to use)
What types of content/style works best
How people are building seven and eight figure businesses with email
Five simple reasons email crushes social media
Why travel is the perfect market for this model (and how to get started)
How to convince readers to sign up - without being annoying
The two simple factors in growing your readership
Extremely smart (and PROFITABLE) ways to monetize
Ready? Then let's roll…
First, what is a travel newsletter?
A newsletter - sometimes called an "autoresponder" - allows you to email subscribers whenever you want.
There are two kinds of emails you can send:
Broadcast emails: these are sent out to your subscribers only once. Broadcasts are great for announcing new blog posts, "breaking" news and any other timely events.
Follow up emails: these are set in an automatic sequence that can run forever. For example, you can write 20 emails and have them go out every three days on autopilot. Follow up emails, done correctly, are the bread and butter of your business.
Why travel blogs are PERFECT for newsletters
People love travel, right? And they're always interested in seeing pictures.
Now here's the thing: travel blogs thrive on beautiful imagery… so why not send these to your subscribers via email?
Gary Arndt uses his collection of photos as an incentive to get people to subscribe (and I'll bet it works like Gangbusters).
When you visit Gary's site you'll see this: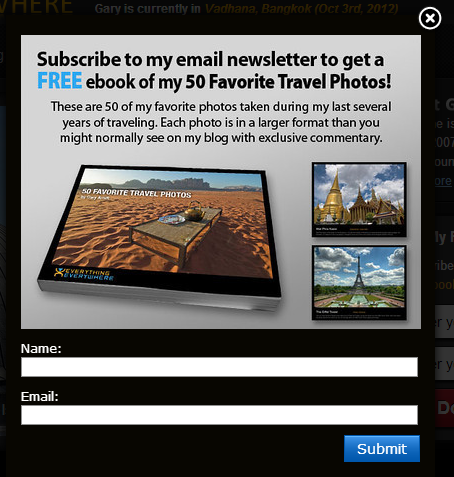 Right upfront, Gary asks you to join him by email (social channels are also available, though less visible) and offers a strong incentive as to why you should.
Pretty… freakin'… sweet.
Pro tip: Ask for just an email address (no name). It usually boosts signups.
5 Unsexy (But True) Reasons You Need An Email Newsletter
#1. Newsletters are PROACTIVE.
When people subscribe to your travel newsletter, they're welcoming you into their inbox… and that's a very, very personal space. Sure, you could hope people come back to your blog, but you GREATLY increase your chances by sending them an email every now and then.
#2. Newsletters are SCALABLE.
Ask yourself: when was the last time a Tweet delivered traffic to your blog six months after it got posted? Probably never, right? Yet I've got a newsletter which still delivers traffic to tens of thousands of people… even though it's over five years old.
#3. Newsletters build RELATIONSHIPS.
The free Travel Blogging 101 course here is delivered in 24 emails, each of which is a blog post in itself. These emails help provide value to my subscribers in an awesome way.
#4. Newsletters feed social media (not the other way around).
OK, there are exceptions. Caz & Craig recently broke TWO MILLION followers on Pinterest (congrats guys!). Vagabondish has over 120K Twitter followers.
But you know what?
The money is still in the list. You simply create valuable content, set it to "drip feed" out for every new subscriber and continue building the relationship.
Social media, on the other hand is a one-off shot. How many Tweets from six months ago still send you traffic? Yet I have newsletters that continue to send traffic for up to five years.
Social media gets people to your site. Your newsletter keeps them coming back. [Tweet this!]
#5. Newsletters are PROFITABLE.You can sell valuable products/services to your subscribers… or charge premium rates for advertisers. (We'll get to this a bit later.)
In summary: newsletters allow you to build your audience at scale, provide immense value, increase traffic (by sending subscribers to your blog), fuel social media and help you monetize your blog.
3 Common travel newsletter mistakes
The following are common mistakes for people just starting out with newsletters:
#1. Start without a plan. Newsletters - much like travel blogs - need to have a focus. Additionally, each email should build on the one before it and "tease" the reader about to expect in the next one.
#2. Treat your readers like scum. Of course you wouldn't do this… but… a lot of people treat their subscribers like their own personal ATM machine.
Not cool.
Your subscribers are the most important part of your audience. They - unlike casual readers - know, like and trust you enough to give their email address.
Don't abuse this!
Instead, give them your BEST. For example, subscribers to my free Travel Blogging 101 course get 24 private blog posts.
Not just emails, mind you… full length blog posts (more on this a bit later). They also receive access to private videos, blog critiques  and a whole bunch of other good stuff.
This is MUCH better than overloading them with sales pitches, ads and affiliate schemes.
(*Note: nothing wrong with selling products or ads… just don't overdo it!).
#3. Rely on RSS feeds.This ain't gonna do it. Email subscribers are much, much more valuable. Don't focus on getting RSS subscribers - go for email!
My preferred newsletter provider
My personal choice is Aweber.
I've used them for 5+ years and absolutely LOVE their service.
Why?
It's easy to use, (relatively) inexpensive and has incredibly high deliverability rates.
'Nuff said.
What type of content/format works best?
Valuable content is whatever your audience wants. Ask them questions like "What would you like to see more of?" or "What are you struggling with?"
I highly recommending creating unique content for your subscribers. It's a way of saying "thank you" and lets you provide something special for people willing to hand over their contact details.
You can add these emails to your autoresponder so you constantly receive valuable feedback. Qualaroo is an interesting option as well.
You can see it on Trekity.com to see how we're using it or just visit their site.
Regarding style:
— Most people's attention span is short with email. Aim to keep emails under 200 words.
— Email should include links to your blog and/or other sites. Studies have shown 21 links per email have the highest click through rate (I don't follow this, though, just FYI).
— Emails should "tease" your reader to click to your blog for more great content.
Design: why you don't need any… yet
When it comes to sending emails, you've got three options:
#1. Use text-based emails. No pictures or fancy formatting. This is the simplest route and is perfectly fine (it's what I use here).
+++Note: if you go this route, activate click tracking so you can track your hyperlinks. This is VERY important for tracking if someone is clicking through.+++
#2. Use HTML templates. Aweber's got over 150 email templates right here. Simply use these, add pictures and you're up and running!
#3. Design your own.If you're just starting out, don't bother. If you want, expect to pay $100+ for an email design (less if you've already got logos, branding, etc. covered).
I recommend starting with #2.
How to get more subscribers to your travel newsletter
Growing your travel blog's subscriber base boils down to two things:
— Improve traffic
— Improve conversion from traffic to subscribers
For the first one, here are 101 ways to increase traffic. And here are several other ideas.
For improving conversion rates, you'll want to take feedback from your readers (from your newsletter, Qualaroo, social media… whatever… just ASK them!) and create a valuable resource around that.
Then…
Pitch it hard on your blog (I'm very upfront about TBA and Trekity being email focused - I don't want you to see ads or buy stuff… just subscribe for more goodies).
Place the opt in form in many places. A large spot on your homepage, in the right sidebar and at the bottom of every post are good places for that.
What about popups? Aren't they annoying?
I certainly think so… but they work. Whether you use them is up to you.
19 Travel newsletter ideas
Here are 19 ideas for newsletters to get you started:
#1. Recipes from around the world
#2. Your best photos (see Everything-Everywhere.com)
#3. Your best pieces (see Matt-Gibson.org)
#4. A 20 part series on lessons learned from travel (see YTravelBlog)
#5. A 24 part course on travel blogging (right here!)
#6. How to prepare for the trip of a lifetime (delivered over several emails)
#7. Travel hacking tips
#8. Profiles on travelers relevant to your audience (e.g. adventure, backpacker, couples, etc.)
#9. "Guest" emails written by someone else
#10. Expert interviews
#11. Round ups of the best resources around the web (e.g. "10 Must Read Articles on North America")
#12 Personal travel stories
#13. Special discounts (this is great if you can negotiate deals with companies on your subscribers behalf)
#14. New blog posts
#15. "How to" emails which solve a very specific problem (e.g. "How to Slash Airline Fees in Half")
#16. Ongoing video series featuring your favorite destinations
#17. News items
#18. Relevant non-travel content (e.g., a series of fitness tips for outdoor enthusiasts)
#19. Free ebooks (written by you or others)
Need more ideas? These 101 headline templates will keep you busy 😉
3 Proven ways to monetize your newsletter
#1. Direct ads. You can include ads in the email itself, either as a banner or text link (which, unlike paid links on your travel blog, do not violate Google's terms of service).
Direct ads usually charge anywhere between $25 - $50 CPM (meaning every 1,000 subscribers) which make it much more lucrative than ads on your blog.
Why?
Because advertisers realize subscribers are much more valuable than general blog traffic… and they're willing to pay a premium for access.
#2. Sponsored emails. Similar to direct ads, sponsored emails - sometimes called "dedicated emails" - are all about the advertiser. You retain editorial control. Rates for sponsored emails range anywhere from $100 - $250 CPM (per thousand subscribers.
#3. Sales. Sell your own products or others (through affiliate deals). Depending on your market you can/should create your own products and sell them to your audience.
The process is simple: ask subscribers what they want and give it to them. More on monetization here and here.
Proof that newsletters work (testimonials from the TBA course)
Done correctly, email marketing is extremely powerful. I put a TREMENDOUS amount of effort into the free TBA course here… and it's paid off tremendously.
Here are what some travel bloggers are saying about my newsletter:
"Thank you so very much! This is so insightful and your expertise is really going to help me improve my site. I really appreciate you taking the time. I've already started to make a few of the changes!

You can tell you genuinely want to help us be better at our craft. Your expertise on SEO and building traffic were invaluable.

You were so honest, specific and personable - I feel like you were talking to each one us of one on one!  Thanks for the personal attention and detail 🙂

I know I wouldn't find any of this info in a book! Can't wait to see what else is in store at TBA!"

- Cristina, thetravolution.com
Adam, I loved the course, need to go back over much of what you covered that is now on the site. Keep up the great work. - Molly McHugh
I just wanted to say thank you so much for all the advice you've provided through the Travel Blogger Academy. All the articles, interviews, and profiles you've done have been immensely helpful in understanding where and most importantly how to improve.

Your input and advice on the finer points of running a website as a business will really help me take my site to the next level. Thank you!

Thanks again Adam, and all the best with your future endeavors (I know the TBA course is at an end but I do hope to see much more from you!). Please feel free to excerpt my comments here for use in testimonials.

Cheers,

Reena, wanderplex.com
Your 25 lesson course over-delivered beyond all my expectations. Filled with quality content, practical advice, it is everything one needs to start a travel blog! Thanks for taking the time to create this for us!
- Sophie
I've really gotten a lot out of your series, and can't believe you offer it for free! Keep up the excellent work!

Paige Conner Totaro, alloverthemap.net
Hi Adam,

First of all I would like to thank you for having set up this awesome blogging course. Whenever I virtually meet new travel bloggers, I recommend your course to them. I love the way it is broken down in short sections.

I just went back at some of your previous lessons (yes I am such a nerd that I re-read them sometimes to refresh my memory). - Tamara Braun
Further reading
Travel newsletters haven't really caught on yet… but they will. The following articles will help you understand how to implement your newsletter (and which companies do right).