I must warn you: this is a long post.
But you deserve the full story and - if you're willing to walk through this - you'll discover exactly what my wife and I did to launch Trekity.com, our new travel blog.
More importantly, you'll discover the exact traffic strategies we used to get 8,370 pageviews the first week.
Ready to get started?
Before We Start: A Few Disclaimers
Not all this traffic was "free." As you'll see, a percentage of traffic came from StumbleUpon ads, a press release and a HARO (Help a Reporter Out) ad, all of which went live May 1st.
Trekity did not happen overnight. We launched with over 830 pages of content (actually, it was closer to three thousand, but we're only counting destination pages). I don't want you thinking we just slapped a few posts up and BAM! Instant traffic.
Since Trekity covers the entire world - you'll understand if you visit the site - we needed close to a thousand pages just to scratch the surface.
Our marketing plan began 90 days before. And it was aggressive (you'll see how aggressive in a second).
So if you're looking to launch a new travel blog - or take your existing blog to the next level - this post reveals how much went work went into this.
But having said that, we made a lot of mistakes along the way. Some stuff worked. Others didn't. This is your chance to learn from our mistakes.
Let's dive right in…
Launch day
As you can see above, Trekity's first week received 8,370 pageviews.
More importantly, you'll notice almost half of that traffic occurred on May 1st. This was no accident. Darcie and I spent the previous 90 days scheduling all our marketing materials to go live on May 1st (though several went live early, hence April 30th being included in the seven days).
What were these marketing materials, you ask?
Here's what we did:
Press Release through PRWeb ($369 normally, $319 with a first time buyer promo code)
HARO ad ($300)
StumbleUpon ads ($300)
51 guest posts (yes, we wrote them all)
I had also written a free eBook for Vagabondish readers, which was released on May 1st. It was more of a branding play (meaning I wanted to build Trekity's brand alongside a popular travel blog) rather than a way to get traffic, but I mention it here for the sake of thoroughness.
As I've mentioned elsewhere, there are three reasons for marketing online:
Increasing traffic
Getting links
Building your brand
That's it.
Seriously, everything you do should satisfy at least one of these goals (ideally all three).
Having said that, let's look at each method and its results…
Method #1. Press Release through PRWeb
If you're unfamiliar with the term, a press release lets you write a news article about your company. PRWeb is a service which then distributes your news piece to high ranking sites like Yahoo! and SFGate.
Here's our press release which went live May 1st.
As you can see, over 1,300 websites republished that press release:
Plus, most of these sites linked back to Trekity, which is great for SEO (especially big-name sites like Yahoo!).
So from an SEO perspective, PRWeb was a huge win. One piece of content = 1,000+ links.
Nice.
And it worked for branding, too. Press releases give you a chance to talk about your blog (something you can't usually do in guest posts). Also, they target journalists who may write about your blog in the future.
But what about traffic?
Take a look for yourself:

Hmmm…
There are few things to consider here. First, this only shows traffic from PRWeb (and not the 1,000+ sites which reproduced it).
Secondly, the quality of those readers is quite high. As you can see they spent almost ten minutes on the site and viewed over 6 pages. These are people who are likely to sign up and/or return to Trekity in the future.
Plus, journalists read press releases… which can lead to interviews, other articles, etc.
So overall:
PRWeb for branding: good.
PRWeb for traffic: not so good.
PRWeb for SEO: great.
Let's move on…
Method #2. StumbleUpon ads
StumbleUpon is a wildly popular social network site. It's like channel surfing: you tell StumbleUpon what you like (e.g. "travel") and it serves up a relevant website which you can either like (called a "Stumble") or just move on to the next random site.
You (the blogger) can pay to have your blog put in front of users for $.05 - $.25 each, depending on your ad level. You can learn more about their ad program here.
We chose to advertise with StumbleUpon for a few reasons:
It was about 1/10 the cost of Google Adwords
It had the potential to go viral (other users would see it get popular and Stumble it themselves)
It allowed us to target the travel market
So we paid $300 for 3,000 visitors to hit our site on May 1st.
Unfortunately, Google Analytics does not register all StumbleUpon traffic (most, in fact) because it uses Javascript, which is blocked by many browsers.
(Note: I am purposely glossing over this subject in order to push forward. You can read the technical stuff here.)
So while we paid (and received) 3,000 visits, Analytics only reported…

As you can see, Analytics didn't register close to 2,000 visits… which means Trekity actually received over 10,000 visits its first week (but for the sake of continuity I won't include this in our total).
But how do I know we actually got the traffic we paid for?
Here's a screenshot showing the stumbles on Trekity:

Ah, so they did show up, after all.
Keep in mind: the other 94 may have been other users on StumbleUpon, or completely random visitors. I have no way of knowing for sure.
So how did StumbleUpon do?
Well, in terms of traffic it was a clear winner: 3,000 people is a great start. But looking at the Analytics report above we see they didn't really engage much with the site. They only spent 1:13 and didn't view many pages.
That's OK. StumbleUpon users - like someone flipping through TV channels - are notoriously finicky. They click…. and then… POOF!
Gone.
But hopefully some will stick around.
As for SEO, it's pretty worthless. There aren't any links from this traffic, but since that wasn't our goal with this source, it's not really a big deal.
Same with branding. Our goal was to get 3,000 people to see Trekity on day one - and we did. Seeing it in StumbleUpon didn't build our brand really (not like with guest posting, which we'll get to in a moment).
So in summary:
StumbleUpon for branding: poor.
StumbleUpon for traffic: great.
StumbleUpon for SEO: worthless.
Now let's take a look at the next method which is…
Method #3. Help A Reporter Out (HARO) advertisement
HARO connects journalists with experts looking to get exposure. Let's say you've got a travel blog about Southeast Asia. Sign up for HARO (it's free) and receive three emails a day with lists of journalists looking to write about travel topics.
If you notice a journo looking for experts on Southeast Asia, contact them and (maybe) get some press.
In each email HARO has a small intro hyping up some product or service.
It looks like this: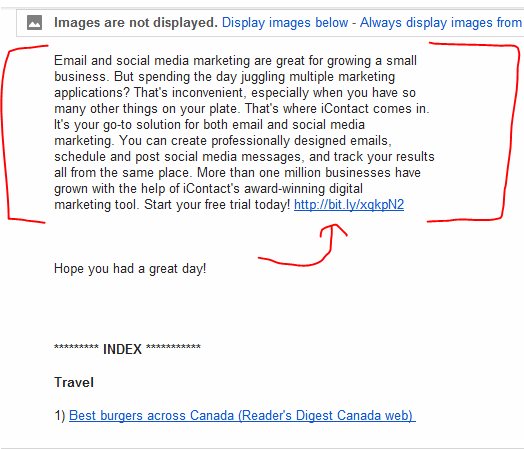 (Note: everything under *****INDEX***** are journalists looking for experts.)
So buying one of these ad spots seems like a good idea. After all, people who sign up for HARO are either journalists or people who have travel sites…
… so whoever responds to this email is a good fit for Trekity.
At least, that's what we thought.
May 1st came… and went. And guess what? I never received the HARO email (and I'm signed up for it!).
After going back and forth with HARO, the answer I got was that I needed to check with my email provider. Right. The guys at Google are more than happy to look into this issue for me.
Sigh.
And sure enough, the evening version - the one without my ad - arrived.
Now, I'm not gonna sling mud.
Instead, I'm going to show you our traffic from this ad:

Ouch.
This ad - which we paid $300 for - sent 143 visitors to Trekity. If you do the math, that's $2.09 per visitor. By comparison, we paid slightly less than ten cents per visitor with StumbleUpon.
Of course, it did send more traffic than PRWeb, but without the SEO benefits (which is why we used the press release, anyways; traffic was gravy).
So HARO lacked PRWeb's SEO benefits and StumbleUpon's traffic. In short, it was the worst of both worlds.
HARO for branding: poor.
HARO for traffic: expensive and ineffective.
HARO for SEO: worthless.
Method #4. Guest posting
I'm a big fan of guest posting.  So much so, that - before we launched Trekity - we decided to line up not one, not two, but fifty guest posts to go live on May 1st.
And you know what? It worked.
We focused on the two industries we know best: travel and marketing. Darcie personally reviewed and contacted over 200 blogs and pitched them guest post ideas. Of those, over 60 blogs accepted and 51 published our posts on May 1st.
Here are the top ten sites who referred us traffic:
Note: sites that are checked published our guest posts.
Problogger was our biggest referrer, followed by Business Insider and Vagabondish. As you can see, Business Insider visitors interacted with the site more than Problogger, and Vagabondish readers stayed even longer.
This makes sense.
After all, Vagabondish is a travel blog, too, and Mike Richard (Vagabondish's editor) personally endorsed our site.
Lifehack and Art of Backpacking also sent traffic, but after that it dropped off considerably. In fact, nearly all guest posts sent less than ten visits each… which… when you consider it took an average of 3 hours to pitch, write and deliver the posts, is not a very high ROI on our time.
Especially when StumbleUpon ads sent ten people to Trekity for one dollar.
Of course, guest posting isn't just about immediate traffic. It's also about getting high quality links from trusted sources, which moves Trekity up in the search results and ultimately gets more traffic in the long-term.
It helps with branding, too. But there's something even more valuable.
Relationships.
We now know over 60 prominent publishers. We can promote each others content. Create products together. Whatever it may be, those relationships are worth their weight in gold.
So in summary:
Guest posting for branding: excellent.
Guest posting for traffic: decent.
Guest posting for SEO: excellent.
Conclusions, Musings and What We Need To Do Next…
We won't do another press release. Frankly, the SEO benefit diminishes after one round and that's the main reason we did it.
We will run StumbleUpon ads again… especially when promoting a viral worthy post. For ten bucks you can show it to a hundred eyeballs, which isn't a bad way to jumpstart exposure.
We won't run HARO ads again, for obvious reasons. I'm not knocking HARO, mind you, it just didn't work for us. It may have been the ad I wrote, who knows?
We will continue guest posting… but in a different way. We'll definitely guest post on the top five traffic referrers again, but will focus on working with larger blogs in a variety of industries. Top blogs = more direct traffic, stronger brand and higher quality links.
But Most Importantly…
We will focus on two things: creating content and building relationships. Our goal is to ultimately create a piece of high quality content and have our partners promote it for us.
This will make marketing much, much easier and allow us to focus more on content and monetization.
Have you tried these methods? Which others would you recommend?
Let me know in the comments below!